Welcome Back Week at the Rapid City Newman Center!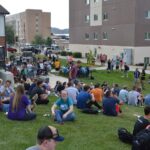 With the academic year beginning for 2023-2024, we welcome new students and families, as well as returning students, back to the Rapid City Newman Center. We have a promising year ahead with Bible Studies, faith formation opportunities, retreats, and fellowship opportunities at your "Church Home Away From Home!"

Don't miss these events happening here at RCNC!
Sunday Supper, Sunday, August 20, at 5pm | Mass at 7pm
Campus Ministries picnic on Tuesday, August 22, at 5pm
Bonfire & Smores on Wednesday, August 23, at 7pm

You are welcome here!